The University Campus of Gandra is located about 18 km from Porto, very close to the junction of Highway No. 4 (A4) to the National Road No. 15 (exit Campo, Lordelo, Rebordosa, Gandra). After this exit, follow the 1st right in the two roundabouts that you are going to find. About 50 meters ahead, turn 1st right. Campus is about 200 meters after on the right.
If you prefer to use public transport, the company VALPI BUS has a high number of rapid buses, which complete the route Porto-Gandra in about 30 minutes. The central station at Porto City is located on Avenida dos Aliados Avenue next to Câmara Municipal do Porto (City Hall) and Garret Café. In Gandra, the bus stop is right in front of the Academic Campus and is called "Gandra / Vilarinho."
Schedule VALPI BUS (linhas / lines 5 & 8): www2.valpi.pt
LOCATION AND ADDRESS
Rua Central de Gandra, 1317
4585-116 Gandra PRD – PORTUGAL
TLF: (+351) 224 157 100 | Fax: (+351) 224 157 102
GPS: 41.183509; -8.445928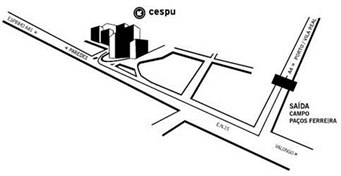 CESPU schools are currently spread over two Campus, in the cities of Gandra (IUCS and ESSVS) and Vila Nova Famalicão (ESSVA), having excellent facilities for higher education in the areas health.
In addition to the higher education and the provision of community services, scientific research was established as one of the main strategies of CESPU. We highlight some of the several support measures implemented, including:
Creation of the Research & Development Office;
Significant investment in infrastructures and equipment;
Allocation of grants for research projects within the framework of the doctoral and master's work;
Constitution, in cooperation with the University of Barcelona and other institutional partners, the "European Foundation for Health Sciencies and Technologies";
Launch of CESPU Award "A contribution to the development of science and health technologies" in the total ammount of EUR 38,000.00;
Organization of scientific events, such as conferences, symposia, seminars, conferences nationwide and internationally.
University Institute of Health Sciences 


University Institute of Health Sciences
Vale do Sousa Higher School of Healt